Linwood Christian Church
Pilgrimage to Cane Ridge
October 10, 2019
Site Archives

Field Trip to Cane Ridge, KY
On October 10, 2019, after a delayed start from Linwood, a group of Linwood Members reached Cane Ridge, shortly after 1:00 and had a wonderful and meaningful experience.
After a splendid picnic lunch, we toured the Meeting House, built by pioneers in 1791, restored closely to its original condition (but with newer floor and chinking between the logs of the walls which was added later), and then preserved within a new stone shrine in 1957.
Curator James H Taylor II gave an interesting (and often amusing) lecture about the site from its earliest pioneer days, through the gigantic "revival" of 1801, and the creation in 1804 of what has become the Christian Church (independent), the Disciples of Christ, and the Christian Church (non-instrumental); [the Stone Campbell movement].
All then participated in a "scavenger hunt" in which answers to historical questions about the church and the site had to be found in the museum and on the grounds. Finally, Shaleah, Levi, and Shaylee Truitt lead all of us in a most meaningful Worship Service within the Meeting House, before the return trip home.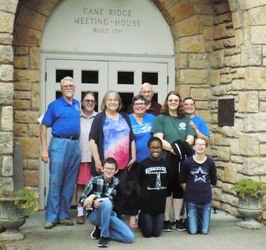 Pictured above are:
Front: Levi Truitt, Shaleah Truitt, and Shaylee Truitt
Next: Carolyn Watkins, April McManus, Gail Stackhouse, and Daniellle Elliott
Back: Jim Woodruff, Joan Woodruff, and Gary Elliott (who drove the van).
Additional Photos, Youth Lead Service, and Lecture in video above